Unfortunately attempts from scammers pretending to be associated with Sure in order to gain access to your personal information are becoming increasingly sophisticated.
Phishing is the fraudulent practice of sending emails purporting to be from reputable companies in order to induce individuals to reveal personal information, such as passwords and credit card numbers.
From time to time you may receive emails that look like they are from Sure or other leading companies but they are in fact a scam to try and get you to give them some sensitive information about you or your account.
Sure is aware of recent phishing attempts to replicate billing notification emails sent from Sure to customers. There are some key differences to look out for which will help to identify whether a billing e-mail from Sure is authentic:
Sure will address customers by their full name in billing e-mails, never by Sir/Madam or by email address. Always check that your name is spelt correctly.
Sure will always include customers' account numbers in billing e-mails. Check it matches your actual account number by comparing it with a previous bill. If the account number is missing this is also an indicator of a fake.
Below is an example of a phishing attempt –
The greeting used an email address and the account number is missing. Please note also the word spacing is misaligned.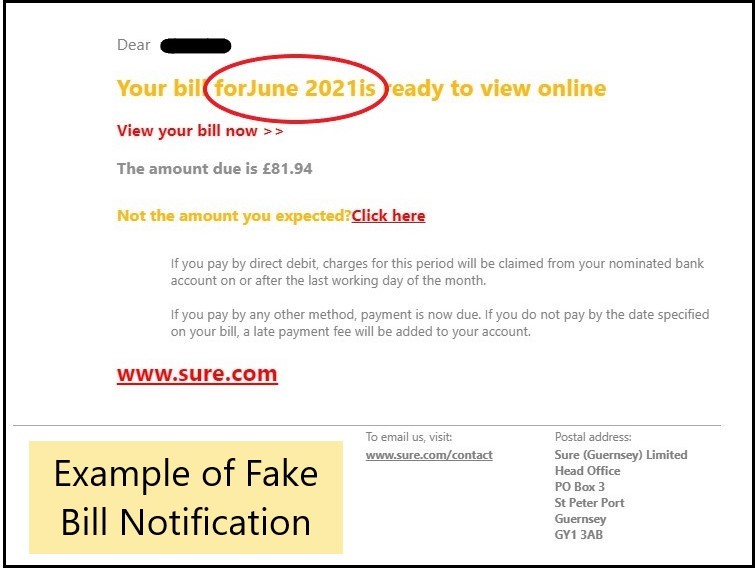 Genuine Sure Bill Notifications look like this: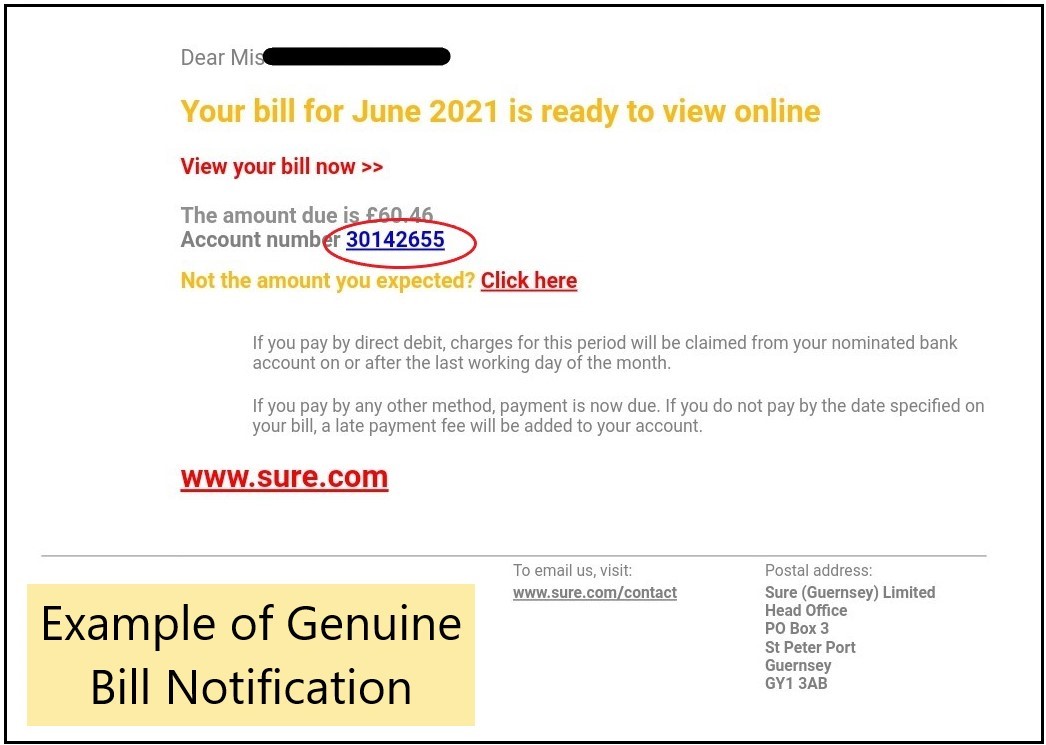 Please click here to see our video on You Tube for further explanation of this issue.
If you think you might have received a phishing e-mail impersonating our billing e-mail and you have clicked on the links please log on to your Sure account via the Sure website and change your password immediately. Please contact us on 700700 if you require assistance.
Scammers are aware of the common advice on phishing and are actively trying to get around these so customers should always be vigilant. If in doubt never click through the link in the email but log on to view the bill via www.sure.com.
More information and advice about phishing and e-mail safety can be found here:
https://guernseyhelp.sure.com/hc/en-gb/articles/360000290420-Phishing-trying-to-steal-your-identity
https://guernseyhelp.sure.com/hc/en-gb/articles/360000290580-Email-Safety