What can I do to improve my Internet?
Check for any software updates for operating systems and apps.
Make sure your antivirus software is up to date, if not, it can slow things down
Clear your device's cookies and cache - Troubleshooting checklist
Reset your browser - Troubleshooting checklist
Close any programs/devices you're not using as they may be slowing it down
Turn off any older devices – they can reduce your WiFi speed and this might help
What else can I do to improve my WiFi signal?
It never hurts to try turning the router off and on again after 60 seconds.
Try to keep your router as free from obstructions as possible. i.e not behind the TV..
You could try using a wireless booster. This will boost the wireless signal within your property and are available online and in all good computer shops.
You can also try a higher spec router i.e 5Ghz / Dual band. We now supply/sell these as standard but you can buy them from reputable computer shops too.
Other factors inside your house which can affect your speed include:
The distance, type and quality of the connection between your router and your devices (particularly true for WiFi connections)
Quality of your phone line inside your house (old wiring and extension cables for example)
Other devices competing for bandwidth such as cordless phones, baby monitors, oil Master etc.
The age of your equipment, router or filters.
Obstructions to the router if it's behind a TV, near a fish tank, on the carpet.
Sure Support App
After following the advice above, if you are still having problems then you can download our support app from Appstore or Google Playstore. This will run a diagnostic test on your network at home and send you a code which can then be passed on to our agents.
Search for 'Sure Support'

Install the App to your phone and then follow the on-screen instructions.
Running the App will create a code that can then be sent to our Support Team: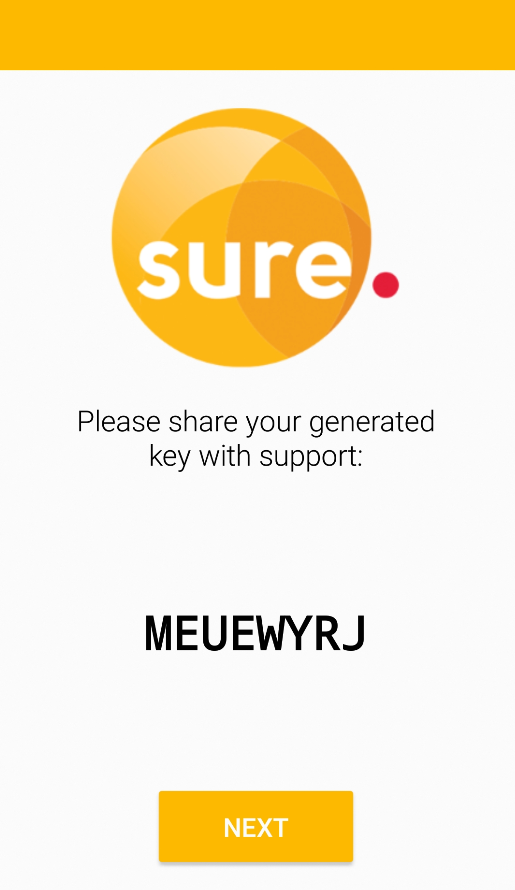 Clicking NEXT will allow you to send photos or video of your set-up and send the scan results: